Toyota immobox ID:6E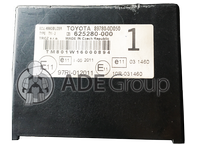 Reset ECU

Memory

93C66

Dump file size

512

Original transponder type

6E-G

Transponder to write
Toyota Corolla
Toyota Hilux
Toyota Yaris
Toyota ECU 89780-0D050
Toyota ECU 89780-71030

Press to generate virgin ECU file.
Insert the box to the car after reset.
Addition procedure keys (one key):
insert the key to ignition and turn ON and OFF 5 time (not start the car but only to the dashboard mode) important is removing key from ignition during operation not only ON and OFF.
Addition procedure keys (two keys):
First key insert to ignition and turn ignition ON and OFF one time after that insert second key to ingition and turn on and off 5 time.