Subaru smartkey unit Denso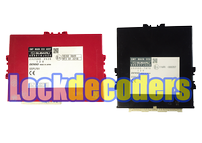 TRANSPONDER

Memory

93C86

Dump file size

2048

Original transponder type

4D-6A, 4D-6B

Transponder to write

Original Subaru smart
Transponder type depends on file.
Use the same transponder type as stored in file.

Type 4D-6B - Pg1:78

Type 4D-6A - Pg1:9F

Type 4D-6B - Pg1:F1
Subaru BRZ
Subaru Forester
Subaru Outback
Subaru WRX
Transponder is ready to start the vehicle.
Eeprom memory must be updated.
Programmed key will start vehicle when you put it near START button.
Remote, keyless functions don't work.

Press to generate virgin ECU file.
WARNING!
After reset SMART BOX you have to do reset ID CODE box (module 407) and than programing key via diagnostics device only.