Jaguar, Land Rover BCM module ID:47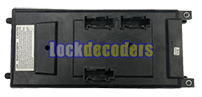 TRANSPONDER

Memory

9S12XEP768

Dump file size

32k

Original transponder type

47

Transponder to write

PCF7953P
Jaguar F-Pace
Jaguar F-Type
Jaguar XF
Jaguar XK
Lang Rover Discovery 4
Range Rover Evoque
Range Rover Sport
Range Rover Vogue
Adding working key (from the module 450) to BCM.
The key must be added to BCM for the emergence start function (without battery).
1. Program the transponder using module 450.
2. Remember the transponder position (key number).
3. Add the key to the same position in BCM.
Transponder is ready to start the vehicle.
Eeprom memory must be updated.